Goes to Hanami (see cherry blossoms) to Mt.Minibu. (My excursion)
Mood:
lazy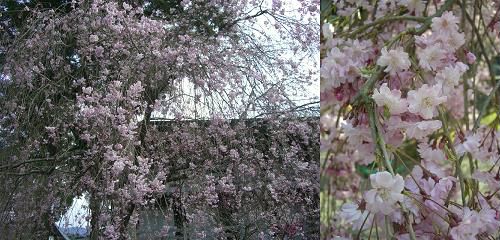 It went to see cherry blossoms to Mt.Minobu on April 5. (4/5/2007)
We Japanese have a habit to go for Hanami in the time when cherry blossoms bloom.
About April is in full bloom, and Japanese cherry blossoms are beautiful from about March inside.
The cherry blossoms of this Mt.Minobu are famous though there are many famous places in Japan for the cherry blossoms.
It is introduced because it has been to see SidareZakura of Mt.Minobu.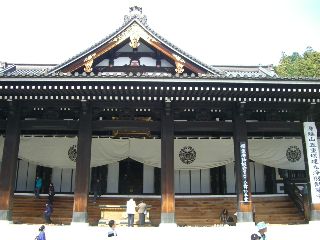 There is Kuon-temple at the top of Mt.Minobu.
Cherry blossoms can't be presumed not to go to Kuon-temple.
However, it is difficult until it goes to that Kuon-temple.
It is because it must climb these steep stone steps "Bodaitei Steps" when it says why.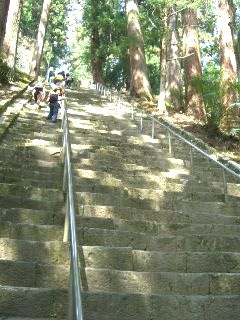 Mt.Minobu is height above sea level 1,153m.
Stone steps are steep slopes very much because it climbs it with 287 steps no less than 1,153m.
I did my best with the teacher of English which came from the United States where it got acquainted with each other halfway, and climbed it!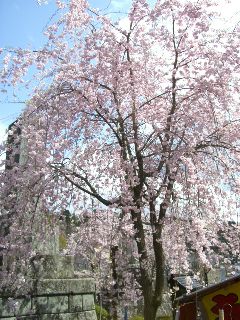 It has difficulty, and beautiful beautiful SidareZakura can see it when it climbs the stone steps of this steep slope.
************************************************************
Only a little......
The Bodaitei Steps......
The Bodaitei or the Steps or Enlightenment, which symbollze the truth that enlightenment can be reached step by step,
consist of seven flights, having 287 stone steps altogether.
The number seven impolies that of the letters composing the Sacred Title:na, mu, myo, ho, ren, ge, and kyo.
The set of stone steps was constructed by the untiring efforts of a believer called Nizo of the Province of Sado in 1932
in the time of the 26th Chief Abbot Nissen.
************************************************************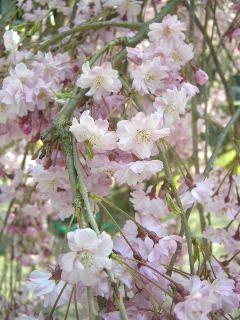 Though it was difficult to climb it, very beautiful SidareZakura could see it.
I was deeply impressed.
Of course, it is the impression to see cherry blossoms.
And, it wanted to come to this someday.

*1 (O)Hanami:Cherry blossoms viewing.
*2 SidareZakura:A drooping cherry tree.
As for the photograph and more detailed My-Blog, see this. (but, Japanese)
http://blog.livedoor.jp/umunenori/archives/53684230.html
Posted by Syokker at 14:29 KDT
Updated: Sun 04/26/2009 12:10 KDT