The recollections of summer. (A Japanese editions.)
Mood:
happy
July 7(7/7) is the day of the Tanabata Festival.
An important event for the young Japanese couple.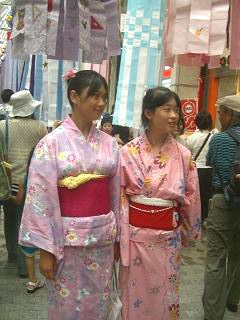 This day puts on even its Yukata in the pairs, and wants to go out.
I have been for "Hiratsuka's Tanabata Festival" and "Sendai's Tanabata Festival" in Japan.
The seventh of July of Sendai is fitted to Japanese Bon, and delayed for one month, and done in August 7(8/7).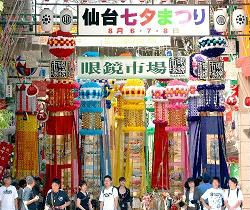 Many Yatai(food stands) of food come out, and I am at a loss what will be eaten.
It has light raised, and generally a night becomes romantic.
Tanabata Festival is whether it is being deified for the couple at present, too.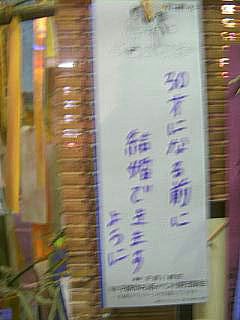 Various wishes are written in the Tan-zaku(strip of papers) with Tanabata Festival.
Then, when a wish is realized, it is handed down.
Well, what shall I write?
That? There was the one to be writing such a thing.
"Before being thirty years, it can get married!!"
God will satisfy a wish certainly!

************************************************************
Only a little......
Tanabata Festival(Star Festival)......
Tanabata (meaning "Seven Evenings") is a Japanese star festival,
derived from Obon traditions and the Chinese star festival, Qi Xi.
The festival is usually held on July 7 or August 7,
and celebrates the meeting of Orihime (Vega) and Hikoboshi (Altair).
The Milky Way, a river made from stars that crosses the sky,
separated these two lovers,
and they were allowed to meet only once a year.
This special day is the seventh day of the seventh
lunar month of the lunisolar calendar.
History......
The festival originated from The Festival to Plead for Skills,
an alternative name for Qi Xi,
which was celebrated in the Kyoto Imperial Palace from the Heian Period.
The festival spread to the general public by the early
Edo period, became mixed with various Obon traditions,
and developed into the modern Tanabata festival.
In the Edo period, girls wished for better sewing and craftsmanship,
and boys wished for better handwriting by writing wishes on strips of paper.
At this time,
the custom was to use dew left on Taro leaves to create
the ink used to write wishes.
************************************************************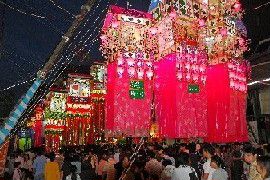 Though it was an excursion, Tanabata Festival was pleasant.
And, I want to go next year, too.

*1 Tanabata Festival:The Star Festival based on a legend,at which people hang strips of colored paper and other decorations on branches of bamboo.
*2 Tan-zaku:An oblong strip of color paper for writing poems or wish on.
*3 Yukata:Informal summer Kimono. (A Japanese-type bathrobe. When summer comes, there is a habit to put this on outside and to walk in Japan.)
*4 Bon:Japanese Bon Festival,The Buddhist Festival of the dead.(The Lantern Festival.)
*5 Yatai(En-nichi):Food stand,A temple or shrine festival at which stands are set up in the precincts.
As for the photograph and more detailed My-Blog, see this. (but, Japanese)
Hiratsuka's Tanabata Festival: http://blog.livedoor.jp/umunenori/archives/64655710.html
Sendai's Tanabata Festival: http://blog.livedoor.jp/umunenori/archives/64705074.html
Yukata: http://syokker.tripod.com/MunenoriBlog/index.blog/1737458/it-is-hot-in-japan-of-this-year/
Posted by Syokker at 00:59 KDT
Updated: Sun 08/26/2007 03:47 KDT